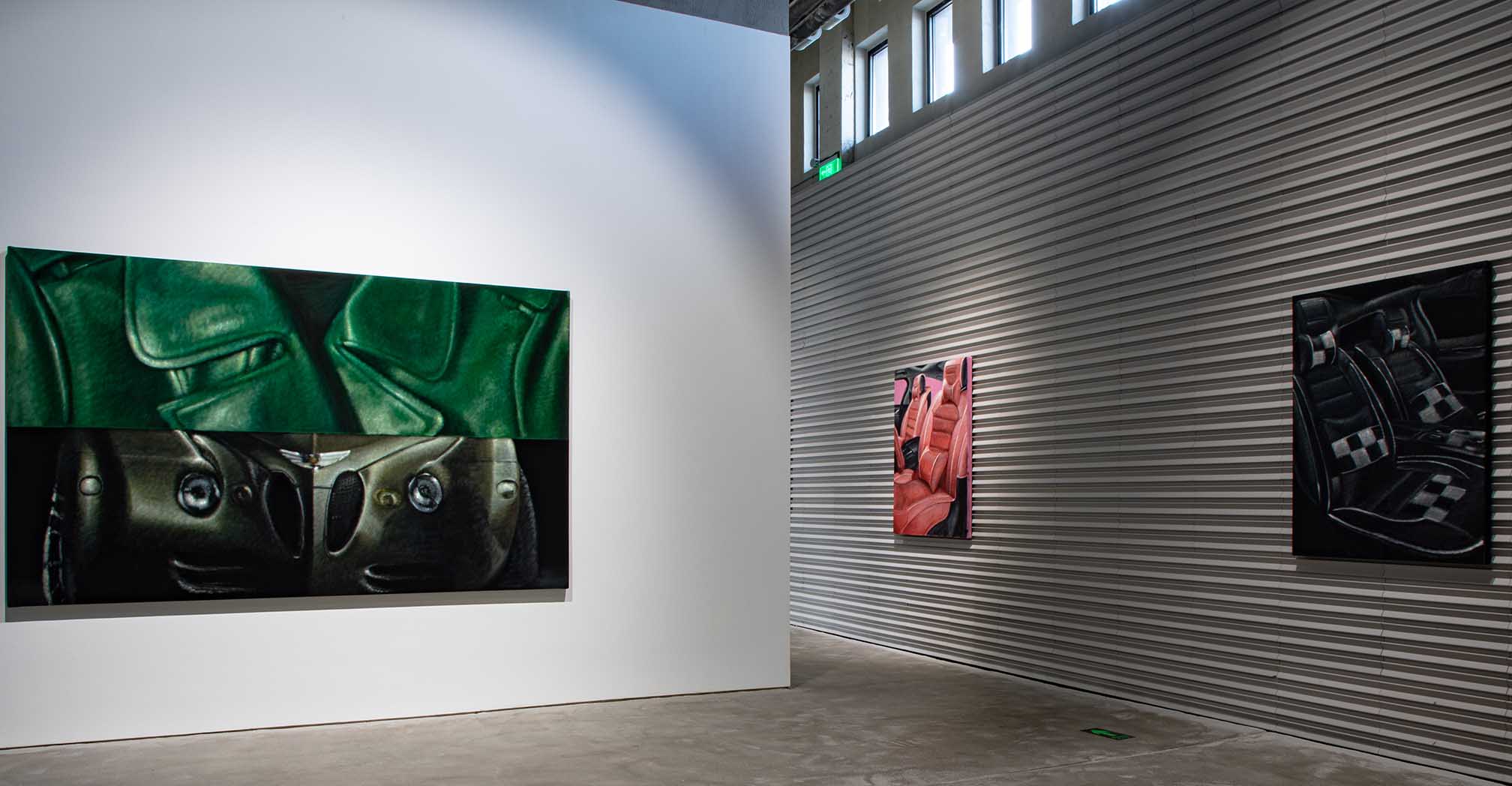 X Museum presents 'Issy Wood: Good Clean Fun' on view from 6 December, 2020, through 28 February, 2021. As the artist Issy Wood's first museum exhibition in Asia, 'Issy Wood: Good Clean Fun' configures a pantomime for consumption signage with humor and estrangement, offering a surreal outlook on everyday life. 'Issy Wood: Good Clean Fun' is curated by X Museum director Michael Xufu Huang and assistant curator Edel Yuqing Yang.
'Issy Wood: Good Clean Fun' showcases the artist's recent practice which exploits a variety of mediums, ranging from velvet to vintage garments. Many of the artworks uncover how the artist transliterates the visual vocabularies of digital gadgets into figurative paintings and real spaces. Depicting modern ephemera such as porcelain tableware and car interiors, Wood's works spell out a contemporary negotiation with bodies and objects through subtle composition reminiscent of the Japanese mono-no-aware arenas. Alongside her paintings, the exhibition also presents the artist's texts, music, garment, and tile installations, revealing her myriad inspirations from classical still-life and auction catalogs to Internet pictures. Upon her wide spectrum of practice, Wood's works often create a phantasmagoric world where the muted objects solicit our contemplations and reflections on the interiority and impermanence of things.
The exhibition 'Issy Wood: Good Clean Fun' unfolds through four galleries the different registers of the artist's expansive practices, from exclamations of material lustre alluding to the Renaissance celebration of artifice, to tile installation reprising contemporary moments of objecthood. Oscillating between glamour and satire, her titles often bear references to the non-sequiturs of social media. The revealing contrast between fetishistic gloss and melancholic undertones cast inanimate objects as expressive agents, probing into the longstanding question of how we understand objects through art.
About the Artist
Issy Wood (b. 1993, USA) graduated from RA Schools in 2018. She works and lives in London, UK. Her wide range of creative practice encompasses figurative paintings, texts, installations, and music. She held major solo exhibitions at Goldsmiths Centre for Contemporary Art (London, 2019); MoMA, Warsaw (2019), JTT, New York (2019), D.E.L.F, Vienna (2018), Carlos/Ishikawa, London (2017). Her work has been included in group exhibitions at Zabludowicz Collection, London; White Cube, London; Lisson Gallery, London; S12, London; Mendes Wood, Brussels; Société, Berlin; Tate St Ives, UK. In 2019, Issy Wood is enlisted in Forbes '30 Under 30' Art and Culture list.
About The Artists
About The Curators