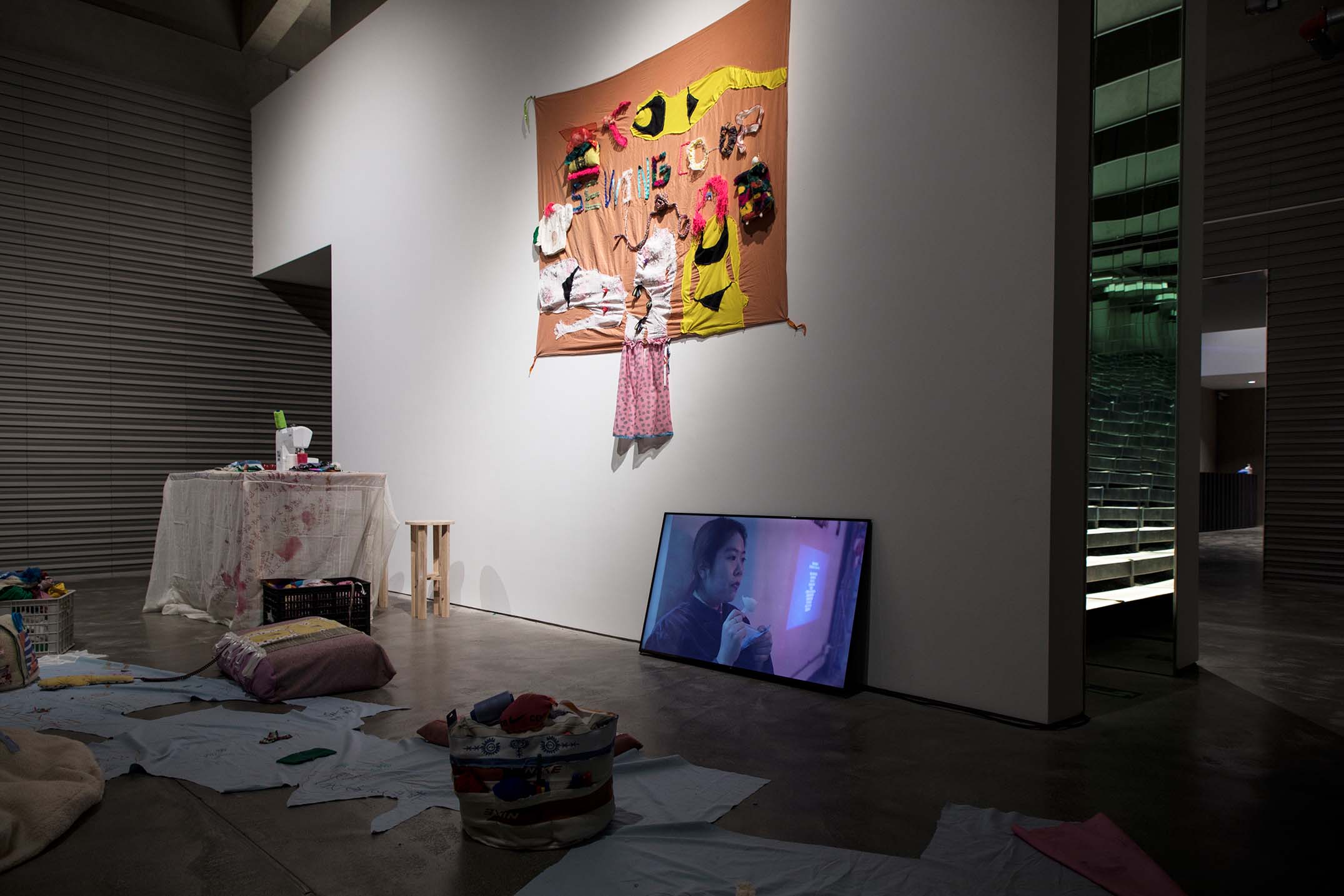 X Museum is delighted to announce the opening of 'The Endless Garment: Research Station' – an overture of the ongoing research project 'The Endless Garment', on 14 March at Gallery 1-4 of X Museum. The exhibition will feature works by 22 artists and designers from 10 countries and regions in Southeast Asia and Greater China; it will run through the 30 May, 2021. 'The Endless Garment: Research Station' is co-curated by guest curator Jeppe Ugelvig and Poppy Dongxue Wu, Chief Curator at X Museum.
Using the South China Sea as a conceptual starting point, 'The Endless Garment' is a research project and two-fold exhibition about fashion production. The project brings together a broad group of contemporary cultural producers from Greater China, South East Asia and their global diasporas to study and contest the ways that 'Asian' fashion is represented as a system and cultural narrative. The exhibition explores the fashioning of selves and communities in a variety of sites within fashion's global supply chain, from street, factory and workshop to print publishing and retail. Crossing spheres, geographies, disciplines and systems, the 'The Endless Garment' outlines a contemporary generation of practices who inhabit and critically respond to fashion as a cultural, social, and economic system.
Fashion – and more broadly, the garment industry – is one of the oldest networks of the globalized world: an uneven and contested system where commodities, identities, and images circulate at rapid speed across the globe, connecting disparate contexts through style. The production and consumption of clothing have long produced complex transnational networks, and constitutes the fabric of migration and histories of cultural exchange to/from/within Asia. Fashion offers not only a form of aesthetic entrepreneurship but a form of collective identification – this has only become more obvious with the invention of the internet. In the past decade, digital technology has rapidly transformed fashion business, particularly in Asia, and allowed for new, alternative modes of fashion practice native to the social media sphere. Rather than flattening the field, these innovations have led to the proliferation of DIY systems of production, circulation, and exchange of fashion, sparking surprising moments of opportunity and kinship across geographies.
Tackling themes such as authorship, authenticity, labour, heritage, and identity, the exhibition skips fashion's mainstream purview to instead focus on its more marginal spaces of production, from Ho Chi Minh's fabric markets to Bali's independent design scene; from community-driven runway shows in New York's Chinatown to artisanal couture brands in Manila and Jakarta. The exhibition borrows its name – itself a quote from Roland Barthes' The Fashion System – from the ongoing poetry project by participating artist group Shanzhai Lyric, who for several years have collected Shanzhai t-shirts found in clothing markets in Hong Kong, Shenzhen, Guangzhou, Beijing, and New York. The artists in the exhibition fuse the paradoxes of personal and collective biography with those of fashion's global assembly line, where opaque supply chains work to obfuscate origin and representation while e-commerce continues to cultivate new modes of intimacy with consumers. Challenging taste hierarchies and divisions between high and low, original and counterfeit, author and labourer, consumer and producer, the participants in The Endless Garment perform (in) the increasingly digital fashion system so as to highlight its problems, paradoxes, ironies, and possibilities – and ultimately propose fashion production as a critical practice that can work to outline a new material politic of the global community. By presenting diaspora fashion practices from around the world alongside fashion businesses from the region, the project sets out to complicate 'Asia' as a cultural, geographical, and economic category, while deepening the stories, questions, and sensibilities behind it.
Responding to the physical restrictions of the COVID pandemic, the exhibition's first part will take form as an ephemeral research station comprising fashion objects, publications, and films, activated through a physical installation and workshop with the Guangzhou collective NZZT Sewing Co-op. A dynamic mannequin installation will present outfits from contemporary fashion designers and practices spanning 10 countries and regions.
This physical March showcase is the starting point of a project that will continue throughout 2021 and culminate in a publication and a conclusive exhibition in November. Published in collaboration with the journal for fashion criticism Viscose, the publication will be distributed worldwide in Autumn 2021.
EXHIBITING ARTISTS
Asai
Baby Reni
CFGNY(Daniel Chew, Ten Izu, Tin Nguyen, Kirsten Kilponen)
Carl Jan Cruz
feyfey WORLDWIDE
Hu Yinping
Ican Harem
Joyce NG
Manda Pinkygurl
NZTT Sewing Co-op
PZtoday
Philip Huang
StrongThe
Syna Chen
SAMUEL GUÌ YANG
Suwukou
Shanzhai Lyric
TOTON
VeniceW
Yat Pit
Yuan Xiaopeng
Zhou Rui
Special: theBallroom⁺
ABOUT CURATORS
Jeppe Ugelvig
Jeppe Ugelvig (b. 1993) is a curator and critic based in New York. He is the author of Fashion Work 1993-2018: 25 Years of Art in Fashion, published in 2020 by Damiani. Recent curated exhibitions include 'Witch Hunt' at Kunsthal Charlottenborg in Copenhagen in 2020, and 'Phantom Plane: Cyberpunk in the Year of the Futur' at Tai Kwun, Hong Kong, in 2019. His writing appears frequently in Spike and Frieze, and he is the founding editor-in-chief of Viscose, a journal for fashion criticism.
Poppy Dongxue Wu
Poppy Dongxue Wu (b. 1993) is the Chief Curator of X Museum in Beijing, and a trained architect (RIBA Part I).Poppy graduated from Royal College of Art in Curating Contemporary Art. Her current curatorial practice encompasses virtual space and technology, site-specific public art, and contemporary Asian art in the context of Postcolonial and Neoliberal globalisation. Her recent exhibitions include 'Collection as Poem in the Age of Ephemerality', 2020-21, X Museum, Beijing; 'How Do We Begin?', X Museum Triennial 1st Edition, 2020, X Museum, Beijing, CN; 'Every Second In Between' – the first large-scale public art commission in White City, 2018-19, White City Place, London, UK.
About The Artists
About The Curators