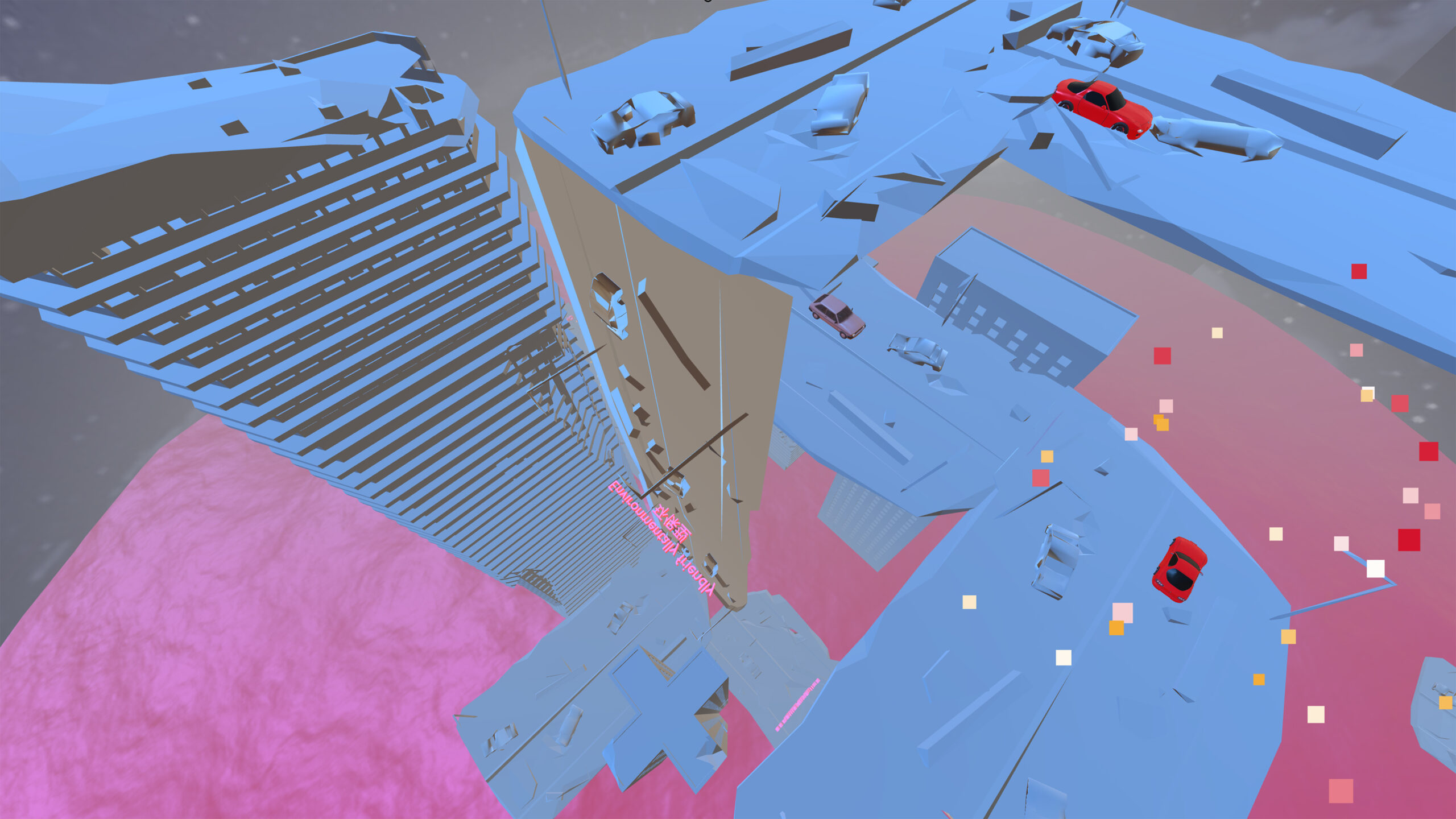 As the second edition of its Incubator commissions, X Virtual is delighted to present artist Lawrence Lek's latest project,
Theta's World
. Created on X Virtual's multiplayer online platform,
Theta's World
is an experimental video game that explores nonhuman consciousness, virtual cityscapes, and the storytelling through video game infrastructure. The work is built upon SimBeijing – a fictional smart city from the artist's body of work Sinofuturism.
Theta's World
immerses the player into the heart of SimBeijing, a fictional smart city brought into existence as a cradle and testbed for intelligent technologies, devoid of human life. The work sprawls an intricate world comprising three levels, varying in times of a day – from the 'Looping City at Dawn,' through the 'Lattice City at Twilight,' to the 'Vertical City at Midnight.' – each alluding to Theta's dream states and consciousness evolution. Through the first player persona of Theta, a self-driving car dreaming about its life and choices within this city, the player embarks on an odyssey through a multitude of layered and increasingly complex narratives.
Resonating with architect Lebbeus Woods' methodology, Lek designed a cityscape which creates a mirroring effect of time, structure, and form that permeates through each level. Embedded within this urban fabric are scattered fragments of text, each whispering stories that shift and morph with every journey undertaken. The non-linear nature of these narrative threads grants every participant an unparalleled storytelling encounter. By bestowing dreams upon Theta, the consciousness, subjectivity and existence of machine are examined through a lens traditionally unexplored. Centering an AI entity in a world where only non-human life exists prompts us to contemplate the ethical intricacies inherent to such a reality.
The online playable work will culminate in an immersive installation. The physical showcase of
Theta's World
will be on view from August 2023 at X Museum in Beijing.
ABOUT THE ARTIST
Lawrence Lek is a filmmaker, musician, and artist who unifies diverse practices—architecture, gaming, video, music and fiction—into a continuously expanding cinematic universe. Over the last decade, Lek has incorporated vernacular media of his generation, such as video games and computer-generated animation, into site-specific installations and digital environments which he describes as 'three-dimensional collages of found objects and situations.' Often featuring interlocking narratives and the recurring figure of the wanderer, his work explores the myth of technological progress in an age of artificial intelligence and social change. Lek studied at Trinity College, University of Cambridge, the Architectural Association, London, and The Cooper Union, New York. Lek recently graduated with a PhD from the Royal College of Art in London. He has exhibited internationally with recent solo exhibitions, including Sadie Coles HQ, London (2023); QUAD, Derby (2022–3); ZiWU The Bund, Shanghai (2022); Center for Contemporary Arts Prague, Prague (2019); HeK House of Electronic Arts, Basel (2019); Urbane Künste Ruhr, Essen (2019); and K11 art space, Hong Kong (2018).
CREDITS
Artist: Lawrence Lek Soundtrack: Kode9 and Lawrence Lek Writing: Lawrence Lek and Holly Gramazio Architecture: Andreea Iliescu Technical Support: Pete Jiadong Qiang
VIDEO
About The Artists
About The Curators